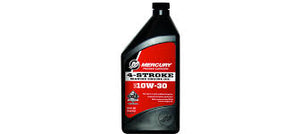 Mercury Marine Engine Oil 4 Stroke 10W-30
Experienced boaters grab Mercury® Marine 4-Stroke 10W30 Marine Engine Oil. This proven boat oil outperforms automotive oils in marine applications because of its specialized additive package just for marine engines. Continued use of Mercury Marine 4-Stroke 10W30 Marine Engine Oil provides outstanding wear and corrosion protection to help engine life; maintains peak engine performance and reliability; and eliminate thermal breakdown under extreme RPM, temperatures, and load. Unlike inferior, traditional marine oil, This Mercury marine oil won't damage emissions systems and works great in any marine engine with or without a catalytic converter.
Manufacturer model #: 8M0078626.
For use in 4-cycle outboard engines
Superior corrosion protection
Most recommended OEM marine engine oil
Outstanding wear and corrosion protection
Maintains peak engine performance and reliability
Eliminates thermal breakdown under extreme RPM, temperatures, and load
Won't damage emissions systems
Works great in any marine engine with or without a catalytic converter